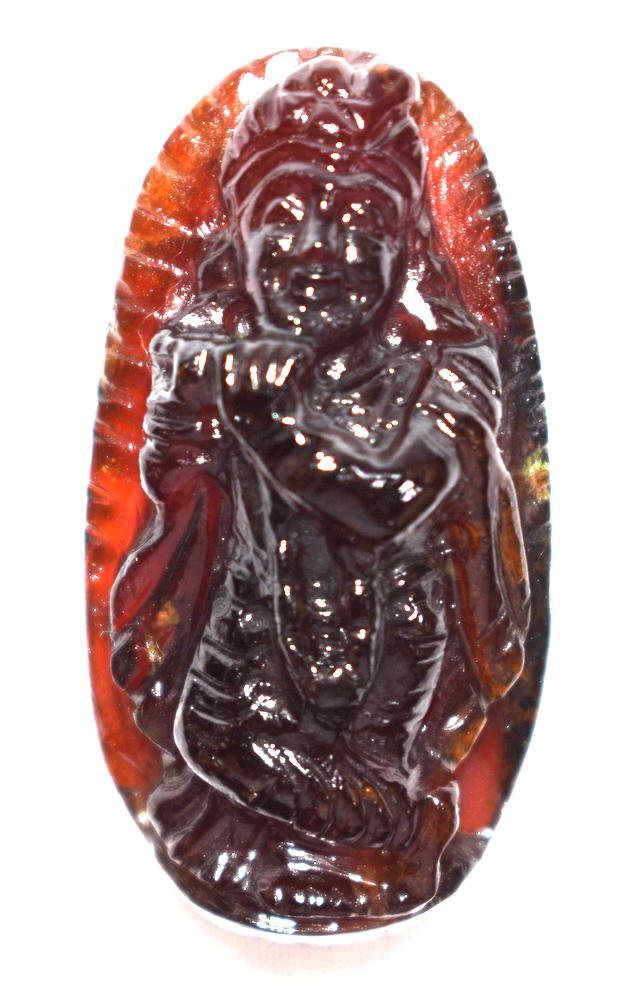 Krishna in Natural Gomed – 62 Carats
Lord Krishna in Natural Hessonite
Description
Product Name : Krishna in Natural Gomed – 62 Carats
Weight : 62  carats
Dimension : 3.50 cm (Height) * 2 cm (Width)
Description :
One of the most widely revered and most popular of all Indian divinities, is Krishna worshipped as the eighth incarnation (avatar) of Vishnu. Krishna became the focus of a large number of devotional cults, which over the centuries have produced a wealth of religious poetry, music, painting and sculpture. His birth was announced by a star and angelic voices. It is said that Krishna returns at the end of each age to save the righteous, destroy sin, and establish goodness and holiness. He Rules Over Erotic delights, sexual pleasures, love, music, savior from sins.
Gomed is imperative for those suffering from malefic effects of Rahu. Malefics of Rahu increases mental tension, and makes one angry & annoyed over small matters. One lacks decision-making power, and is always lost in day dreams and flights of fancies.
May be kept in puja altar or work desk or worn as a locket.