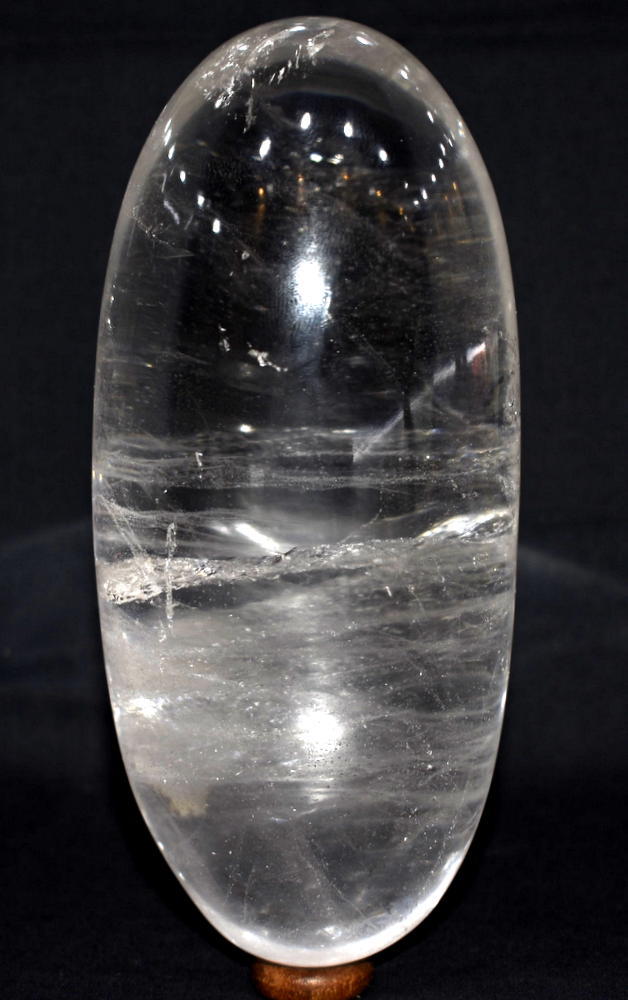 Sphatik ShivLingam – 1228 gm
Quartz Crystal Shiva Lingam – 7 inches
Description
Product Name : Sphatik ShivLingam – 1228 gm

Dimension: 7 inches (height) * 4.5 inches (Centre Diameter)
Weight : 1228 gm

Description : 
Sphatik lingam of medium size made of a single sphatik gemstone.
According to Shiv Purana, Lord Shiva is said to have revealed himself to his true devotees in the form of a Jyoti or light which came to be known as Jyotirling. The Crystal shivling is a symbol of radiant white light energy. It is also believed that lord Shiva and Goddess Parvati (Shakti) live in this stone. Quartz (crystal) is a natural gemstone and has power to retain the energy of mantra chanting.
Sphatik Linga is a Symbol Of The Nirguna Brahman. This is more popular for Aradhana or worship of Lord Siva. It is made up of quartz. It has no colour of its own, but takes on the colour of the substances which come in contact with it. It represents the attribute-less Supreme Self, or the formless and attributeless Siva. The Shivalingam denotes the primeval energy of the Creator.It is believed that at the end of all creation, during the great deluge, all of the different aspects of God find a resting place in the Lingam ;  Brahma is absorbed into the right, Vishnu to the left and Gayatri into the heart. The Shivalingam is also a representation of the infinite Cosmic Column of fire, whose origins, Vishnu and Brahma were unable to trace. Sphatik lingam may be worshipped by everyone . Worshipping of Lingam blesses the family of the devotee with Unity , harmony , spiritual upliftment and prosperity.
Placement:
It is installed facing East or North direction. Read prayers to Shivlingam.
Crystal shivling harmonise the aura around us and remove the negative energy, therefore when we place this crystal shivling , in our home or office, the place is purified by the power of crystal and the blessings of lord shiva is attained.
Shivling Abhishek
Place the Shivaling along with three Rudrakshas under the Abhishek Pot. Take flowers in both hands and offer them on the Shivaling chanting thus
Hastaabhyaam Kalashadwayaamrit Rasei-raaplaavayantam Shiro, Dwaabhyaam Tou Dadhatam Mrigaashavalaye Dwaabhyaam Vahantam Param. Ankanyast-kar-dwayaamritghatam Kailaash-kaantam Shivam, Swachhaambhojagatam. Navendumukutam Devam Trinetram Bhaje.
i.e. I pray to Lord Mahamrityunjaya Shiva who holds two pots of divine elixir in his two hands, who sits on the Kailash mountain on a lotus flower and who has a moon ornamenting his forehead.